Fonte Bertusi Journal
San Gimignano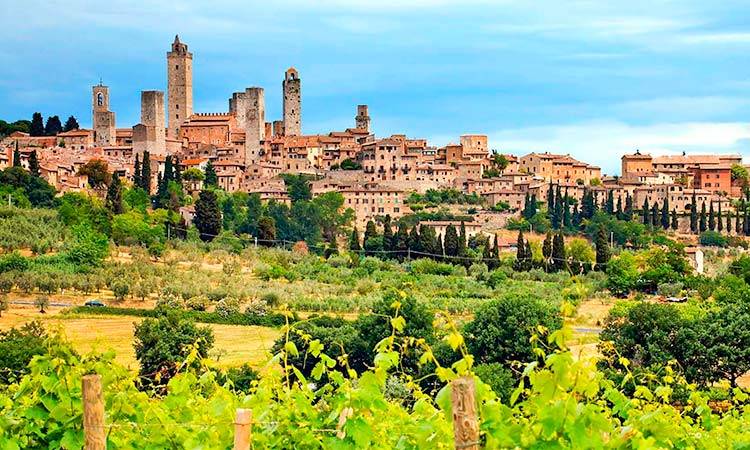 One day in San Gimignano
San Gimignano, is a small town famous for its magnificent architecture and for its medieval towers. Even its local products, such as saffron and white wine, Vernaccia are excellent and renowned.
Arrival
Arriving in San Gimignano from the South, you can find parking at the P1 Giubileo and P2 Montemaggio. The first is the largest and cheapest (1.50 euros per hour for a maximum of 6 euros per day). Coming from the north it is convenient to park at the P3 Bagnaia Superiore and P4 Bagnaia Inferiore. These two parking places cost € 2.00 per hour for a maximum of € 15 per day. The historic center is reachable on foot, but from all the car parks you can take a bus, paying a ticket of 0.50 euros, or 1.00 for the daily, directly on the bus.
Sights in San Gimignano
1. At the Archaeological Museum you will see different objects from the various archaeological sites in the area. This mainly consists of Etruscan and Roman finds, there is also a section dedicated to the Middle Ages.
2. The "Raffaele de Garda" Gallery of Modern and Contemporary Art is dedicated to this painter, who chose San Gimignano as his home. There are paintings by the artist, and other painters of the twentieth century, such as Niccolò Cannicci, Renato Guttuso, Sergio Vacchi, Ugo Nespolo, Marco Gastini and Carmelo Zotti
3. The Spezieria di Santa Fina is the faithful reconstruction of an ancient pharmacy, inside which it is possible to see the laboratory where spices and drugs were produced. There are also ancient collections dating back to the fifteenth century.
4.The Cathedral of San Gimignano, also known as the Collegiate Church of San Gimignano, has inside a fresco dating back to the fourteenth century that completely covers the walls of the cathedral, and which has never been restored. The small chapel of Santa Fina is also marvelous, a delightful example of Renaissance art.
5. Also inside the Palazzo Comunale you can find prestigious frescoes. At the shop located at the entrance to the museum, you can request the ArtGlass, which are glasses that allow you to see the frescoes in an interactive way. The glasses for now are experimental and free. There is also the art gallery where you can admire the paintings of Tuscan artists such as Pinturicchio, Filippino Lippi, Benedetto da Maiano. For those who want there is also the Torre Grossa to climb, that with 218 steps and 54 meters in height, is the tallest tower in the city.
Events
Every third weekend of June in San Gimignano, are held the Ferie Messum, a festival in honor of the fertility of the earth, which was celebrated between 1255 and 1324. During these days there is a historical re-enactment, medieval games among the citizens divided in the districts.
By Alice Canale - Copyright 1998-2018 Fonte Bertusi
Tags