Fonte Bertusi Journal
One day in Volterra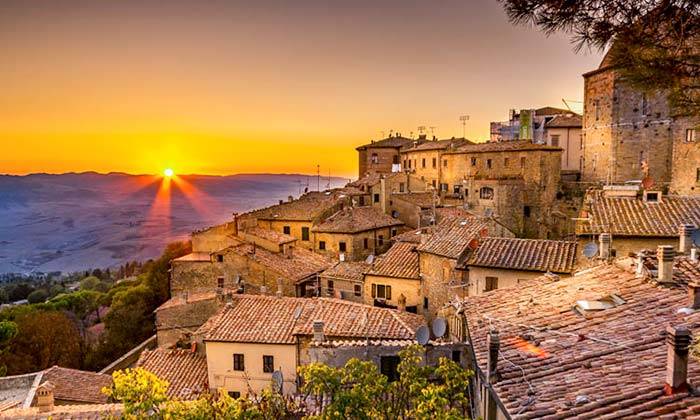 One day in Volterra
Volterra was one of the most important Etruscan cities, and with its excellent historical preservation it offers, besides a pretty village to visit, also precious ancient finds. Volterra is also known for its production of alabaster, considered very renowned.
Arrival
The entrance to the historic center of Volterra is allowed only to residents , but around the city walls there are parking lots, where you can park for to two euros per hour.
Sights in Volterra
1. In the Archaeological Park of Enrico Fumi, it is possible to visit the archaeological excavations of the Etruscan acropolis. The most ancient finds date back to the middle bronze age, then between the seventeenth and fifteenth centuries before Christ. The park is close to the medical fortress, admission to the park is subject to charges.
2. You can continue the visit to Volterra, always with Etruscans at the Guaranacci Etruscan Museum, where with the help of an audio guide (at a cost of 3 euros), you can see and known lots of finds. The entrance to the museum has a cost of 8 euros, for children from 6 to 16 years the cost is 6.00 euros.
3. The Roman Theater, built in the first century after Christ, is an example of Roman construction, where some manifestations are still held. The theater was exhumed in the 50s with archaeological excavations.
4. Palazzo dei Priori, is the oldest Tuscan municipal building, is located in the center of the city, in the homonymous square. Inside the palace you can admire beautiful rooms and frescoes.
5. Cathedral of Santa Maria Assunta is an example of construction in Pisan Romanesque style, even here there are wonderful frescoes. Entry is free.
Events
In June, during the Palio del Cero, you can watch traditional and medieval games. The citizens divided into eight districts will contend for the candle. During July and August there re wonderful shows and concerts, proposed by the International Festival of the Roman Theater.
By Alice Canale - Copyright 1998-2018 Fonte Bertusi
Tags