Fonte Bertusi Journal
One day in Pisa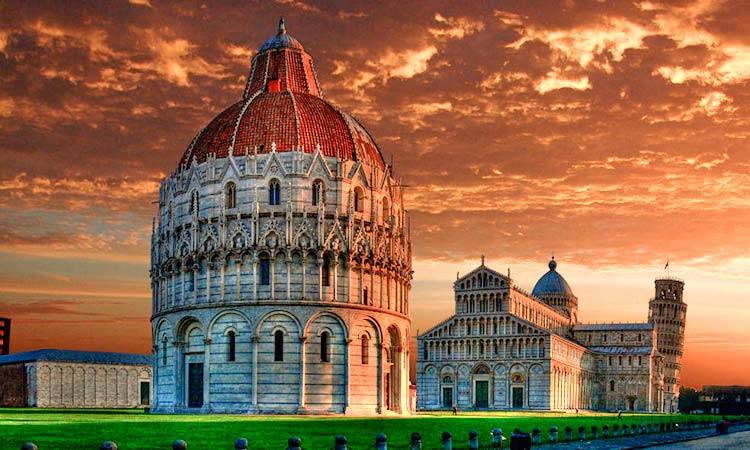 One day in Pisa
Pisa the city made famous by its hanging tower offers besides the spectacular monuments historical, traditions and excellent flavors, which will enliven a day spent in this ancient Maritime Republic.
Arrival
For those wishing to park near Piazza dei Miracoli, to go see the leaning tower and the beauties of the square, there is the guarded parking, in via Cameo, just behind the square, which costs 2.00 euros per hour. Otherwise you can park in the stadium area, in via Pietrasantina and take the shuttle. However, in the stadium area there are many free parking areas, which are well connected to the center. Regarding parking lots there is also one near the central station of Pisa, in Piazza Vittorio Emanuele.
Sights in Pisa
1. Piazza dei Miracoli, is definite UNESCO heritage in1987. This name was attributed to him by the poet Gabriele d'Annunzio in one of his work in 1910. The square is not located in the center of the city but in the northwest, almost outside the village.
2. At Piazza dei Miracoli there is the famous leaning tower. His inclination has helped make it one of the most famous towers in the world, and one of the symbols of Italy for excellence. The tower is 56 meters high, consists of 294 steps, and is inclined south due of the ground below.
3. The centerpiece of Piazza dei Miracoli is the Cathedral of Santa Maria Assunta, one of the most splendid masterpieces in Romanesque style. The Cathedral inside is full of Islamic Byzantines architectural elements and splendid works of famous artists such as Cimabue, Giovanni Pisano, Gianbologna and Andrea del Sarto.
4. Located in front of the cathedral is the Baptistery. The works started in 1152 were not brought and about a century later the project was taken over by Nicola and Giovanni Pisano. The Baptistery is the largest in Italy, the heterogeneity of the Romanesque and Gothic styles is due precisely to the fact that the building was built several times. Visitors remain fascinated from inside the Baptistery, completely bare of furnishings, architectural structures conferring for this a mystical aurea to the environment.
5. Campo Santo, also known as Camposanto Vecchio, located north of Piazza dei Miracoli is an ancient monumental cemetery. In addition to being the place where they were buried the most illustrious personalities of the city, the Campo Santo is architecturally remarkable for the presence of Roman sarcophagi. Works of art such as Il Pulpito di Giovanni are also present inside and the Lamp that gave Galileo the starting point to formulate the pendulum theory.
Events
Every 16th June, the Luminaria di San Ranieri is held for the eve of the patron saint of Pisa. During this celebrations the city is lit by candles arranged on the palaces, according to a tradition which dates back to 1688. Over 70,000 candles are arranged every year, creating an evocative and simply unique atmosphere.
By Alice Canale - Copyright 1998-2018 Fonte Bertusi
Tags