Fonte Bertusi Journal
One day in Civita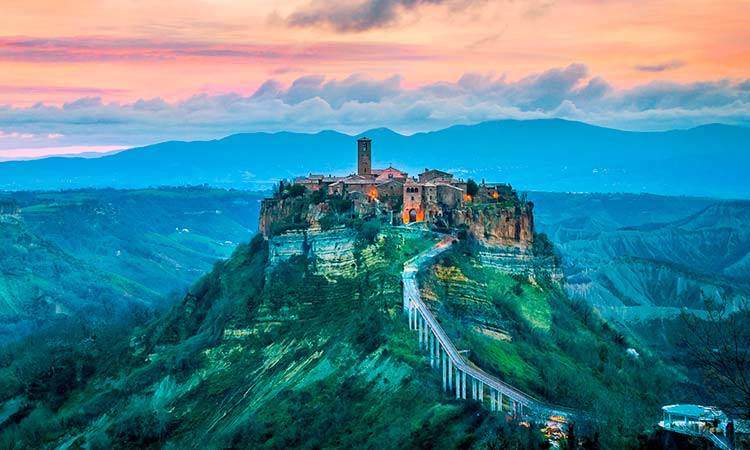 One day in Civita di Bagnoregio
Civita is a fraction of Bagnoregio, it is a tiny and delightful village also known as the city that dies because, despite its extreme beauty, is inhabited just by 10 people. The admirable view is truly breathtaking. The visit to the country costs 3.00 euros during the week and 5.00 euros on weekends.
Arrival
Civita di Bagnoregio can be reached by tourists just through a bridge, so it is necessary to park outside the village. You can park at Bagnoregio, at Piazza Battaglini and reach the town on foot (20 minutes away) or take the shuttle for € 1.00. You can also park at Piazzale Belvedere and walk to the town in 10 minutes. The parking spaces are both subject to charges.
Sights in Civita
1. The beautiful Porta Santa Maria, the only access road to the town is a door excavated in the Tuff, it has Etruscan origin even if it was then remodeled.
2. A few steps away there is the main square of the village, where there is the San Donato' Church, a magnificent example of Romanesque style. Inside you can admire a crucifix dating back to 400 and the magnificent frescoes by Perugino.
3. The underground caves are also of Etruscan origin and excavated in the Tuff, they were then transformed into a small peasant museum. The cost of the visit is 1.00 euro.
4. The Geological Museum of Landslides illustrates the evolution and geology of Civita di Bagnoregio and of Valle dei Calanchi. Start a knowledge of the historical landslides that have affected the city, and its desire to survive.
5. The cave of San Bonaventura is dedicated to this saint who, healed by St. Francis of Assisi, decided to consecrate himself to the order of the Franciscans. This man is considered one of the most important biographers of St. Francis.
Events
In Civita di Bagnoregio, on the first Sunday of June, and on the second Sunday of September, the Palio della Tonna is held, during which the rides of donkeys take place in a path set up in the square, who arrives first wins the prize. During the winter period one of the most evocative living nativity scenes in Italy is celebrated. Composed of over 50 figurants this crib is taken care of in every detail.
By Alice Canale - Copyright 1998-2018 Fonte Bertusi
Tags