Fonte Bertusi Journal
Saint Antimo Abbey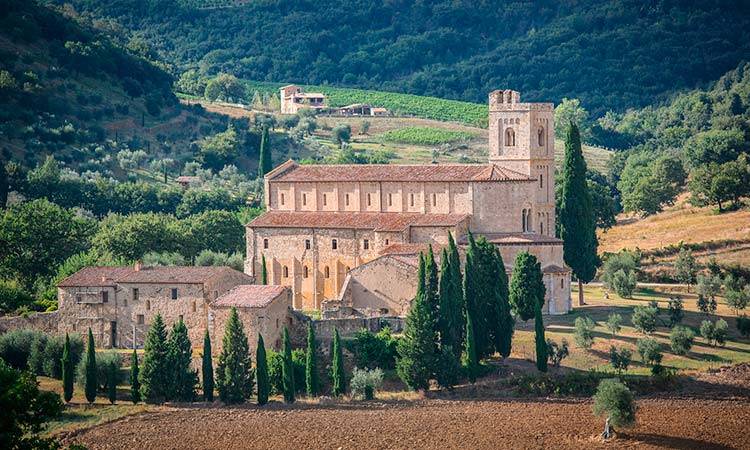 The Abbey of Saint Antimo
Ten kilometers south of Montalcino rises one of the most beautiful churches in the area. Walking down the narrow roads lined with vineyards, at one point there is a small valley where this monastery is located and which legend says was founded by Charlemagne.
It is an unusual place for a monastery, not on top of a hill, but in a low valley field almost like a lamb lost from its flock.
The environment is truly impressive, the colors of the landscape change from month to month and the tower seems to compete in height with an old cypress tree for years to overcome.
Visit
The "Path of Light"
This exclusive tour, with the use of a video-guide, allows you to discover areas hitherto inaccessible to the general public including the Carolingian Chapel, the crypt, the tribune, the monastic pharmacy and St. Benedict's herb garden. You can inspect the nave of the church from the tribune overlooking it, be enchanted by the magical play of sunlight on the capitals and columns and wonder at the beautiful "snippets" of Tuscan countryside visible through the narrow, single-light windows in the upper ambulatory. The tour ends with a visit to the Carolingian crypt and to the rooms that once gave onto the cloister. Tour + video-guide € 6.00
For information and reservations:
Phone: +39 0577/286300
@mail: abbazia@antimo.it
Opening hours:
1st november - 31st march: daily 10.00 am – 5.00 pm
1st april - 31st october: daily 10.00 am – 7.00 pm
Mass: Sunday 11.00 am
By Manuela Rosati - Copyright 1998-2018 Fonte Bertusi
Tags