Fonte Bertusi Journal
Corsignano Church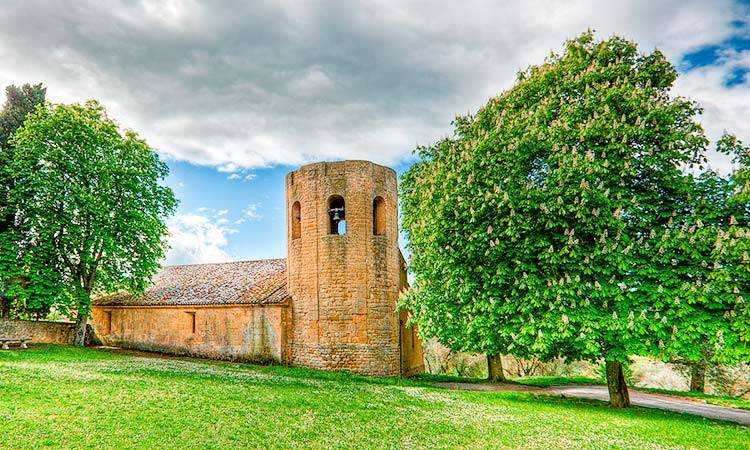 The Parish Church of Corsignano
Strolling along Via del Casello in the city of Pienza, you will be amazed by the breathtaking views overlooking the valley. Continuing on this path leads to the parish church of Corsignano, isolated in a charming and timeless corner of the countryside. The church is dedicated to St. Vito and St. Modesto. Built in the 7th century and rebuilt in the 12th century with an unusual bell tower, it is completely made of sandstone blocks, a typical local stone.
The main door is carved full of decorations and symbolism. The uprights and the lintel are adorned with mythological figures, floral motifs and animal figures that researchers believe go back to pre-Christian traditions. At the top of the facade is a double-lancet window divided by a female figure represented by a full-breasted caryatid, a symbol of fertility.
The simple but extremely charming interior has three naves supported by large pillars with asymmetric arches. Walking up the aisles you will see two altars at the front of the church, to the right side is the baptismal font supported by a Romanesque capital which is assumed to have been used to baptize Enea Silvio Piccolomini, the future Pope Pius II, and later, also his nephew who became Pope Pius III. The right aisle leads to a small vaulted crypt in which you can see mysterious graffiti that says "Centro Sacro" or "Sacred Center", iconography ascribable to a magic symbol of the Templars.
The place looks a little abandoned, but this certainly gives it the charm that sets it apart. It seems to be a return back in time. Right next to the church is an ancient public wash fountain where the delicious water still flows from a deep spring among green fields and huge trees. Undoubtedly this is a place of immense charm that is not always visited by tourists who are in too much of a hurry.
By Manuela Rosati - Copyright 1998-2018 Fonte Bertusi
Tags