Fonte Bertusi Journal
One day in Siena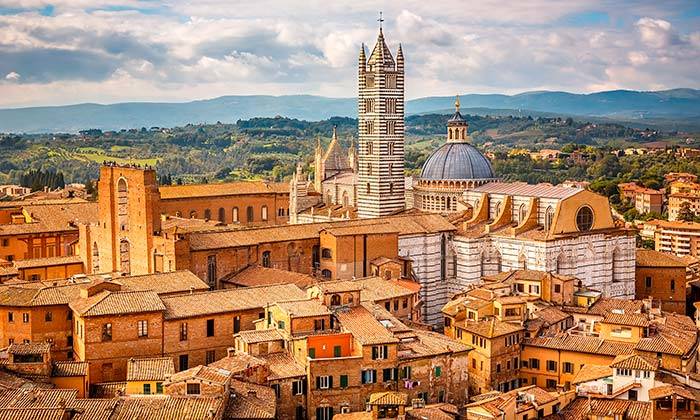 One day in Siena
The beautiful medieval city of Siena, located among the Tuscan hills, is a place rich in history, culture and tradition.
Arrival
The most interesting part of Siena is certainly the historical center, inside which the car access is only for residents. At the gates of the walls, are located some garages from which you can reach the heart of the city in a few minutes on foot. The parking lots are: Il Campo, Santa Caterina and the Stadium parking. These are paid and the cost is 2 euros per hour. Around the Fortress, if you're lucky, you can find free parking spaces.
Sights in Siena
1. Piazza del Campo, is the main square of the city, where you can admire the Town Hall and the other ancient buildings that surround it. The square is particular because is downhill and is shaped like a shell, many tourists sit at its center to take a break, relax and fill their eyes with beauty.
2. Torre del Mangia, is the tower of the Town Hall, and is the symbol of Siena. From its top you can enjoy a wonderful view of the whole city, its characteristic roofs, and also the wonderful green that surrounds it. This stage is not recommended for those suffering from vertigo and for the less athletic types, because the tower is 88 meters high, and to reach the top you have to climb 400 steps.
3. Inside the town hall there is also the Civic Museum where you can see the artistic masterpieces of Tuscan art, such as the beautiful Majesty by Simone Martini, the Good and the Bad Government of Ambrogio Lorenzetti, and the cycle of the Famous Men of Taddeo of Bartolo.
4.The Cathedral of Santa Maria Assunta is one of the most prestigious examples of church in Italian Romanesque-Gothic style. It is possible to visit the Baptistery and go up to the face of the New Cathedral, evidence of the enlargement works never completed.
5. The Piccolomini Library is beautiful and famous for the wonderful frescoes it contains inside. Dedicated to Pope Pius II, these rich representations have the signature of Pinturicchio and his students, among them also Raffaello Sanzio.
Events
The most famous event of all is the Palio, a horse race, represented the districts of the city. The event is held in Piazza del Campo twice a year, on 2 July and 16 August. The race, felt very much by all the citizens, is preceded by a beautiful historical parade.
In January, there is Wine&Siena, an event dedicated to wine, where you can take part in Showcooking, gastronomic itineraries and a one day master.
By Alice Canale - Copyright 1998-2018 Fonte Bertusi
Tags